Growler Fills
64oz
$15.00
+tax
Crowler Fills
32oz
$10.00
+tax
ON TAP
 NOT AVAILABLE FOR FILLS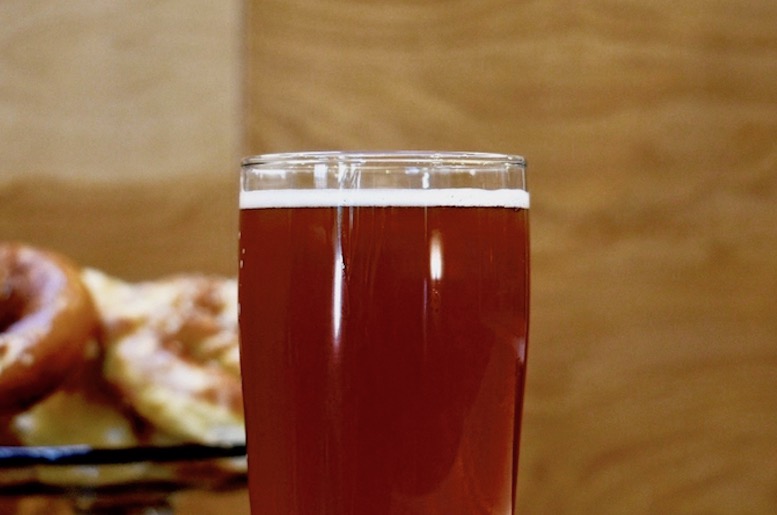 BREAKING BREAD AMBER ALE
TOASTY // CRISP // MALTY
Made in collaboration with our friends at the Central Okanagan Foodbank, this beer uses leftover bread to add character and bring down our waste foodprint. A dollar of every pint goes back to the Foodbank, so drink up!
ABV: 5.0%     IBU: 22
16oz              12oz
$7.50             $5.50

GENESIS RASPBERRY WHEAT ALE
FRUITY // TART // SPRITZY
A beautiful summer beer for all those Okanagan orchard-loving fruit heads. Perfect for someone craving that slightly sweet and deliciously tart raspberry goodness.
ABV: 6.3%     IBU: 18
16oz              12oz
$7.50             $5.50

DON'T GIVE A HOOT PALE ALE
CRISP // FRUITY // MEDIUM HOP
Dreams of sandy beaches, hot rays of sun, and not giving a single hoot. This beer reminds us of a tropical vacation, with notes of passionfruit, orange, and guava.
ABV: 5.5%     IBU: 29
16oz              12oz
$7.50             $5.50

CLEAR DAY IPA
BITTER // HOPPY // DELICIOUS
This IPA is brewed with a collage of dry hops that make it smell like a field hoppy goodness and a mild but sharp bitterness. It's clean and just as refreshing as a clear day!
ABV: 5.5%     IBU: 50
16oz              12oz
$7.50             $5.50

ESPRESSO NIGHT OWL PORTER
COFFEE // CREAMY // DARK
Kegged separately from the Night Owl Porter, this version contains Tug 6's El Columbian coffee. For those needing a little caffeine buzz, one 16oz sleeve contains half a shot of espresso.
ABV: 6.0%     IBU: 34
16oz              12oz
$7.50             $5.50
WISE OWL NITRO STOUT
ROASTED // DRY // CREAMY
Our Irish dry stout is poured using high-pressure nitrogen gas that introduces tiny nitrogen bubbles that cascade down the beer, giving our stout a long-lasting head and creamier mouthfeel. This also accentuates the rich and malty characteristics of our stout.
ABV: 4.0%     IBU: 42
16oz              12oz
$7.50             $5.50
ROUNDABOUT RADLER
SWEET // TART // CRUSHABLE
'Radler' (meaning cyclists in German) was originally named for cyclists drinking a brewery dry of their stock, a story too familiar to us. Our radler is blended with grapefruit soda that gives our beer a mild tart kick, while still being refreshing and easy drinking.
ABV: 3.0%     IBU: 11
16oz              12oz
$7.50             $5.50

NIGHT OWL PORTER
RICH // CHOCOLATY // CREAMY
The night owl is a dark beer for those brave enough for rich and bold flavours. The name has been dedicated to the late nights our brew master had to endure to provide us with beer.
ABV: 6.0%     IBU: 34
16oz              12oz
$7.50             $5.50
ESCAPE | THE PINA COLADA SOUR
 SOUR // SWEET // COCONUTTY
If you like pina coladas, then this is the beer for you. Perfect for Kelowna beach weather or even getting caught in the rain. Enjoy this beer, and escape.
ABV: 5.0%     IBU: 20
16oz              12oz
$7.50             $5.50
BLUEBERRY BERET BERLINER WEISSE
 SOUR // FRUITY // BOLD
This mouthwatering ale is packed with tons of blueberries to give it its juicy, fruity finish. A Berliner Weisse is a wheat beer originally from Northern Germany, and the Blueberry Beret is true to its sour and cloudy roots.
ABV: 5.1%     IBU: 10
16oz              12oz
$7.50             $5.50
MISSION KRIEK CHERRY SOUR
SOUR  // CHERRY // DRY
Being located between a creek and a cherry farm, we thought it most fitting to have a beer inspired by the sour cherry Belgian style Lambic beer known as a kriek. Our kettle-soured beer is a dry, fruity, and colourful beer for our sour-drinkers out there.
ABV: 5.5%     IBU: 26
16oz              12oz
$7.50             $5.50

CANADA GOSE
SOUR // CITRUS // SALTY
The great Canadian geese have migrated South! But a lone gose migrated to the barn! This kettle-soured beer is refreshing with a strong citrus front and a mild note of that signature gose-saltiness.
ABV: 5.3%     IBU: 16
16oz              12oz
$7.50             $5.50